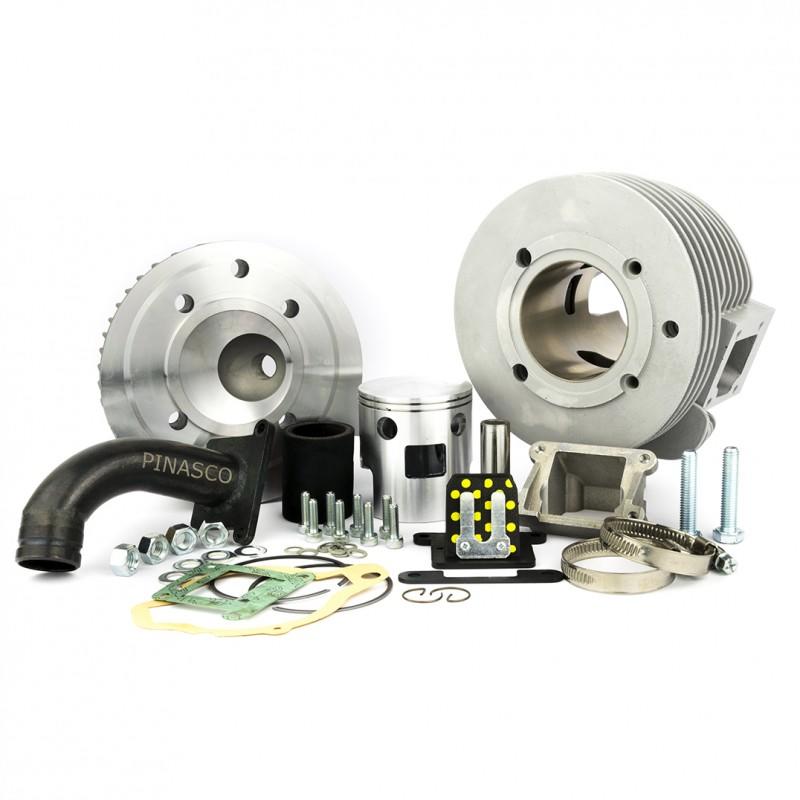 Pinasco "Nordkapp" 160cc Reed valve cylinder kit for Wideframe Vespas
26031001
This is the amazing Pinasco "Nordkapp" 160cc Reed valve aluminium cylinder kit for Wideframe Vespas with 2-port engines.
The reed valve is a direct intake into the barrel and the reed block + inlet manifold are included in the kit.
Some advantages of the reed valve intake are increased power & torque especially at low revs, it adds on approx 1hp over the standard piston ported Nordkapp kit. Fuel economy is fantastic and you will see a great saving on your investment, also the tickover speed stays nice and steady due to the way the reed valve works.
The cylinder fits 125cc-150cc engines built from approx 1953 to 1959, please check with us if you are unsure.
The Pinasco cylinder is designed for the 57mm stroke crankshaft of the 150cc models.
When fitting the cylinder to a 125cc engine, the original 54mm stroke crankshaft must replaced with the 150cc (57mm) crankshaft.
We always recommend using a new crankshaft (Pinasco or Kingwelle).
The kit is designed to give maximum power low down in the rev range which is perfect when using the original 3-speed gearbox (a 4-speed conversion is available) and you can expect a top speed of 60mph+ and 12hp+ depending on your configuration,
We recommend using the Polini CP23 carburettor.
Displacement: 160cc
stroke 57mm
piston Ø=60mm
Cylinder material: aluminium with nicasil lining
Ports: 5
Cylinder head is fixed with 5 bolts for extra secure sealing.
2 chromed piston rings
The kit will fit the following engines:
Douglas:
GL2, 42L2, 92L2, 102L2, Continental, Clubman
Piaggio:
VM1-2T
V30-33 from 1952
VN1-2T
VB1T
VL1-3T
ACMA:
ACMA  125 `54-`58
ACMA 150 GL VGL1T
MotoVespa
125N
125S