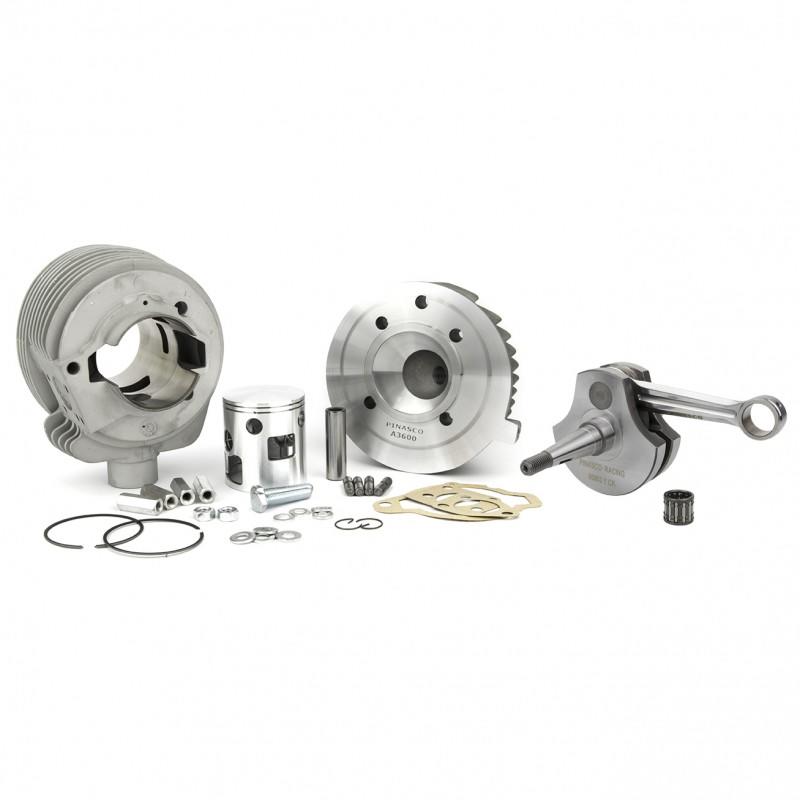 Pinasco "Nordkapp" 160cc cylinder and racing crank kit for Wideframe Vespas
26361001
This is the amazing Pinasco "Nordkapp" 160cc aluminium cylinder kit for Wideframe Vespas with 2-port engines.
The cylinder fits 125cc-150cc engines built from approx 1953 to 1959, please check with us if you are unsure.
This kit includes the Pinasco 57mm stroke racing crank which works perfectly with the cylinder and allows you to reduce the oil mixture due to the needle roller small end bearing replacing the original style bronze bush.
When fitting the cylinder to a 125cc engine, the original 54mm stroke crankshaft must replaced with the included (57mm) crankshaft.
We always recommend using a new crankshaft (Pinasco or Kingwelle).
The kit is designed to give maximum power low down in the rev range which is perfect when using the original 3-speed gearbox (a 4-speed conversion is available) and you can expect a top speed of 60mph+ and 10hp+ depending on your configuration.
More information and a video here: 
We recommend using the Polini CP23 carburettor.
Displacement: 160cc
stroke 57mm (60mm/61mm conversion possible)
piston Ø=60mm
Cylinder material: aluminium 
Ports: 5
Cylinder head is fixed with 5 bolts
2 chromed piston rings
The kit will fit the following engines:
Douglas:
GL2, 42L2, 92L2, 102L2, Continental, Clubman
Piaggio:
VM1-2T
V30-33 from 1952
VN1-2T
VB1T
VL1-3T
ACMA:
ACMA  125 `54-`58
ACMA 150 GL VGL1T
MotoVespa
125N
125S